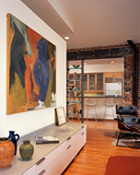 Piven Residence
Philadelphia, Pennsylvania
This 3000 sq. ft. loft was created in two adjacent turn of the century buildings that functioned as the home of the Acme Piano Factory.
The thick brick wall, which separated the two buildings, was designed to be a reference point in the space, with large new openings to allow for a generous flow between all the public spaces.
As much of the existing fabric as possible was retained, creating a rich context of masonry, steel and wood which resonates against the modern furniture and colorful collection of the owner's artwork.